Episodes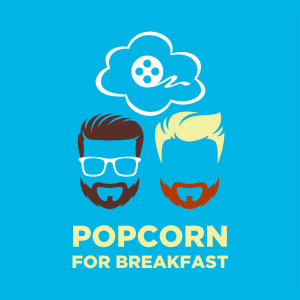 Friday May 19, 2023
Friday May 19, 2023
He's the greatest basketball player that's ever lived. His legacy is engraved in billions of shoes with the famous Nike swoosh. Fresh from Ben Affleck and Matt Damon's Newly Formed Production Company, Artists Equity, comes the larger than life tale of how Michael Jordan became synonymous with a shoe. 
Starring Matt Damon, Viola Davis, Ben Affleck, Chris Tucker, Jason Bateman, Chris Messina, AND MORE, Air delivers more than "just another corporate biopics" for 2023. Join us as we debate who deserves flowers, what stood out to us, and what could've been better, in our weekly movie review podcast. 
Rank the movie with us in the following categories (discussed in every episode):
And the Oscar Goes to…
Scene Stealer
Show Stopper
Director's Shoes
Final Thoughts and Score
Thanks for listening & watching! Please comment, like, and subscribe if you like us, if you really like us! 
Linktree:
https://linktr.ee/popcornforbreakfast
Subscribe to our Channel: https://www.youtube.com/channel/UCeVJZwPMrr3_2p171MCP1RQ
Subscribe to us on Apple Podcasts: https://podcasts.apple.com/us/podcast/popcorn-for-breakfast/id1471851137
Follow us on Spotify: https://open.spotify.com/show/4HhMxftbuf1oPn10DxPLib?si=2l8dmt0nTcyE7eOwtHrjlw&nd=1
Chat with us on Discord: https://discord.gg/7wGQ4AARWn
Follow us on Twitch: https://www.twitch.tv/popcornforbreakfast
Like us on Facebook: https://www.facebook.com/popcorn4breakfast
Follow us on Twitter: @pfb_podcast
Follow us on Instagram: @pfb_podcast
Follow us on TikTok: https://www.tiktok.com/@popcornforbreakfast?
popcorn4breakfast.com
Email us: contact@popcorn4breakfast.com
Our original music is by Rhetoric, check them out on Spotify:
https://open.spotify.com/artist/44JvjuUomvPdSqZRxxz2Tk?si=hcYoSMLUQ0iPctllftAg2g&nd=1
Additional sounds from https://www.zapsplat.com