Episodes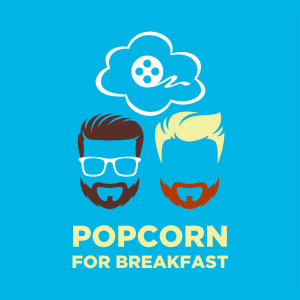 Thursday Jan 12, 2023
Thursday Jan 12, 2023
So far in 2023, only one movie has captured the attention of casual and avid film fans alike, M3GAN. When a movie like this comes around (read: a horror movie with an obvious gimmick) it always begs the question: is this just another campy "B" movie that's fun but not much else? OR is this a movie masterpiece in "B" movie clothing? In our M3GAN review, we tackle that exact question as we break down whether this film is so dumb it's smart or just plain dumb. Plus, it's a horror movie so we rate it on our Pee-Your-Pants-Meter from 1 to "pee your pants." Finally, everyone's favorite co-host returns with a M3GAN-themed game!
Thanks for listening!
Please rate, review, and subscribe if you liked this episode!
Chat with us on Discord: https://discord.gg/7wGQ4AARWn
Follow us on Twitch: https://www.twitch.tv/popcornforbreakfast
Subscribe to our YouTube channel: https://www.youtube.com/channel/UCeVJZwPMrr3_2p171MCP1RQ
Follow us on Spotify: https://open.spotify.com/show/4HhMxftbuf1oPn10DxPLib?si=2l8dmt0nTcyE7eOwtHrjlw&nd=1
Like us on Facebook: https://www.facebook.com/popcorn4breakfast
Follow us on Twitter: @pfb_podcast
Follow us on Instagram: @pfb_podcast
Follow us on TikTok: https://www.tiktok.com/@popcornforbreakfast?
popcorn4breakfast.com
Email us: contact@popcorn4breakfast.com
Our original music is by Rhetoric, check them out on Spotify:
https://open.spotify.com/artist/44JvjuUomvPdSqZRxxz2Tk?si=hcYoSMLUQ0iPctllftAg2g&nd=1
Additional sounds from https://www.zapsplat.com